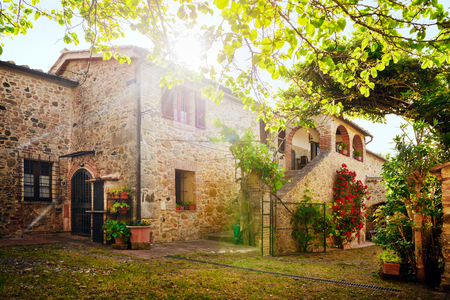 Umbria's Easy Escapes
On close inspection, a small farming village seemingly abandoned and forlorn on a distant hilltop, is a cluster of red tiled-roof houses and farming sheds strung together by footpaths that meander about and lead one to the edge of the green where far into the horizon can be seen cypress-fringed pastures and vineyards and undulating hills. Once this had been a derelict town like many others in these parts, emptied of its farmers who sought new work in larger towns and cities on account of Italy's postwar industrialization. This, and agriculture's decline, led many small hamlets to be vacated and forsaken, at least until big money came looking for villas to buy in the Italian countryside and ended up buying whole towns.
Now, this little village, like quite a few others, has been re-imagined as a village hotel known as "Albergo Diffuso-"—or scattered hotel— where empty apartments and houses are turned into B&B-style lodgings, independently owned but managed as a collective. Guests eat their meals in town, interact with residents—some villagers do remain—and live, for a while at least, like a local.
Visiting the various regions of Italy and staying in an "albergo diffuso" also means getting in touch with the land, people and genuine life of that region that is hosting: in Tuscany one might be staying in "casali" (group of country houses); in Puglia you could find yourself vacationing in a "Trullo"; and in the mountain regions of Italy, huts or chalets might be your temporary abode.
This is a new model of tourist hospitality that is taking shape all over Italy. Hotels have their place in Italy— in the great art cities and in the historical centres, but tourism today is turning more and more to the rural countryside and small communities— to the undiscovered Italy where there is no room for reckless and degrading development. It seems that repurposing existing structures not only costs less than constructing new hotels, but also turns out to be a sustainable model for both development and preservation.
A hotel that follows this model could save so many towns and villages all over Italy, —-towns emptied out and barely subsisting— by creating jobs for area residents . Also, by sourcing products locally, this tourist village or borgo could help sustain traditional crafts and trades. Much of the cost of preservation in fact is passed on to the tourist who in the end, benefits. Tourism therefore, becomes an agent for preservation, procuring both the incentive and the capital. And hotels, rather than overwhelming the historic fabric, can form an integral part of it. 1 http://www.travelandleisure.com/articles/reviving-the-italian-village
This "scattered hotel" model is fascinating; I love that it promotes hamlets and towns with historical centres of great artistic and architectural interest. One might never travel outside the main cities, otherwise.
During our visit to Umbria last year I learned all about this form of tourist accommodation. I thought the Airbnb type of tourist lodging was already a great alternative to congested and expensive hotels, but this, the albergo diffuso, is an idea that effects a significant shift in the current manner of thinking about hospitality for tourists.
Umbria, it seems, is teeming with accomodation of this type, offering the right balance between a hotel and a house. It is certainly the right concept for people who are interested in staying in an elegant urban environment together with its residents (instead of other tourists) and it includes regular hotel services such as room service and restaurant.
At the suggestion of our hostess at ,Torre Almonte, we headed out one evening for a meal across the dark Umbrian countryside, over hill and dale, travelling on shadowy, tight roads, fearing that we might end up down the side of some undetected escarpment.
With no streetlights to guide us we hoped we would eventually find our way to some kind of local trattoria where at least, we might satisfy our growing hunger. How surprised were we when we finally found ourselves pulling in to a small parking area of what appeared to be by the dark silhouette of old stone buildings, a small country village!
Sitting on a small hilltop, this little mediaeval borgo was surrounded by a grove of olive trees, the silvery leaves shimmering under the lights turned towards them. And was that a swimming pool set among the trees, sleeping peacefully under the moonlight?
No signs steered us save for the moonlight that brightened our path. As we entered what seemed the centre of the village, we began to notice the small signs on the buildings indicating by number and letter the various doorways. A ventured turn to the right brought us before an open doorway from where lights and muffled voices emanated. The girl at the restaurant's reception desk confirmed that this town was an "albergo diffuso". On our way to the restaurant's rooms we saw on our right an elegant lounge with a small sign indicating that it was the Cigar room. Down three steps and we entered a perfectly restored "sala" with a smaller room in the rear, both of which made up the restaurant proper. Walls of honey-colored stone, several feet thick, lent the restaurant and air of rustic elegance.
Here, deep in the countryside of verdant hills and silent woods, we had found an oasis that offers travellers a relaxing retreat and perfect holiday. ,La Locanda del Prete Saragano , in the centre of Umbria but not far from the major historical and cultural centres of the area, is the result of an intensive restoration of a small medieval hamlet.
That evening, we enjoyed an exceptional regional cuisine dinner of great quality with vegetables from the garden, cheeses, charcuterie and meats from local farms, and homemade pasta and bread made fresh daily. The menu heralded local dishes such as Le Pizzottelle, filled with mortadella and truffle, speck and brie, broccoli and sausage; wild boar stew and wild chicory. I was so impressed I brought the menu home with me! We went again, a second time, and were not disappointed.
There is without a doubt a certain allure to spending a holiday immersed in the wild country that is the region of Umbria; to be able to live, even temporarily, in one of its ancient hamlets, isolated from the "madding crowd" and malevolent world around us these days, is nothing short of heavenly. The "albergo diffuso" offers the weary voyager a chance at crossing into another time, and at exploring nature and life at a human pace. How delightfully refreshing!
Read more:
Solomeo, Brunello Cuccinelli's Feudal empire at
,https://www.newyorker.com/magazine/2010/03/29/the-prince-of-solomeo
The Scattered Hotel:
,http://www.nytimes.com/2010/05/23/travel/23journeys.html?mcubz=0
Ferragamo's fabulous retreat:
,https://www.architecturaldigest.com/story/ferruccio-ferragamo-article